Weedings/Birthdays/Anniversary
We are specialized in your event
Vila has 3 event rooms.
The largest fits up to 250 people and you can book the rooms for business, trainings, conferences, weddings and more.
A dream day that becomes Real!
All wedding proposals include: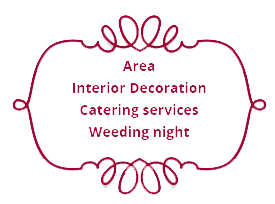 Our experienced staff can supply any audiovisual equipment you might need as well as arranging coffee breaks, personalized dinner menus and anything else you might need. We will be pleased to organize the ideal menu for any type of event that you would like to host, from galas and cocktail receptions to business events, conferences, and weddings. We organize and plan your wedding in detail, so that you can enjoy an unforgettable day.
Villa Toscana meets all the necessary conditions to carry out your wedding. A complete offer of areas and services, led by an experienced professional team who are at your entire disposal to bring all of your wishes to fruition.
As supplementary services to your wedding we suggest:
Photographer
Audiovisual effects
Animation: DJ and Live Music
Invitations
Keepsakes for your guests
With great experience in events and weddings, Vila Toscana guarantees that your only concern will be to know whom to invite.
We have a team that will be your wedding planner, accompanying you from the first moment, making all the necessary services available for your wedding: a magic location, excellent catering, decoration, animation, audiovisual effects, photographer, transport, invitations and all you require for your dream to become Real. Vila Toscana is the perfect place to host different events. The beautiful park, the pool, the restaurant and the architecture villa make the perfect framework for weddings and events.
Our wedding planner will be glad to help you choose all the services for the organization of the event, such as: photographer, car, bride bouquet, decorations etc.. to make your wedding day special and unforgettable. Booking in advance will give us the opportunity to prepare the event in a professional way and guarantee.